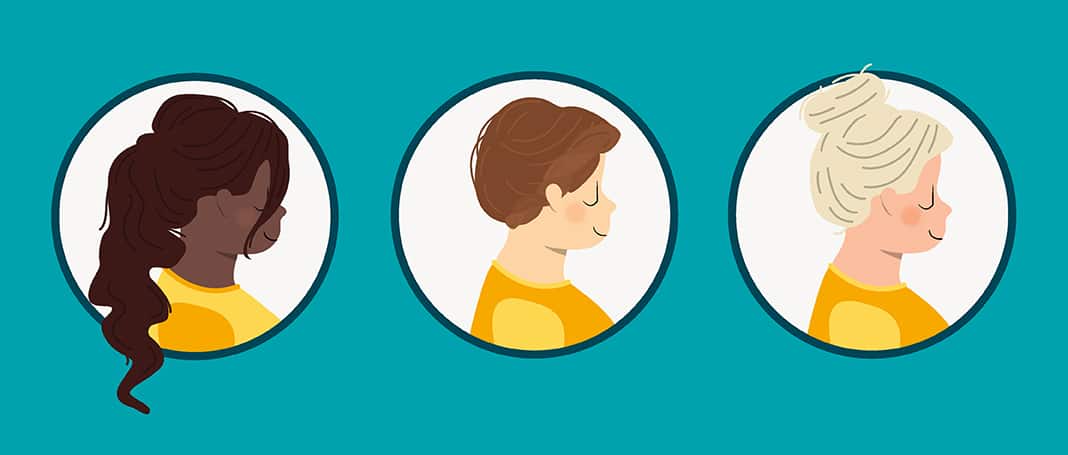 When the temperature rises, it's tempting to throw your hair into a cheerleader ponytail or think about chopping it all off. Don't sweat it: We've rounded up a bunch of easy hairstyles that keep your hair off your face and neck, and still keep you looking chic and pulled together.
Voluminous Ponytail
For a style that's dinner- and heat-approved, tie your hair up between the nape of the neck and the tip of your ear. By sectioning the hair into two elastics, you'll achieve more volume than tying it all with one elastic. For an even more polished look, pull out a section of hair below the ponytail and wrap it around the elastic, securing with bobby pins.

Rope Braid
When a basic pony won't cut it, try a two-strand rope braid for an alternative style that's chic, too.

French Braid Ponytail
Appropriate enough for the office yet fun enough for a beach day, a French braid ponytail is versatile and easy to style.

Ballerina Bun
To keep it quick, don't worry about perfection. Loose strands keep this look relaxed and modern. Textured hair works better here—if you have smooth or freshly washed hair, spritz with a texturizing spray before styling. For a more un-done look, pull out a few pieces of hair to frame your face.

Side Braided Bun
Flat hair cramping your style? Braid and wrap it into a side bun.

Braided Crown
Long hair? Pull it up into sophisticated milkmaid braids.

Slicked Half-Up, Half-Down
Slick this—a half-up, half-down style—back at the top to give it an elegant makeover . Keep it modern by leaving the bottom half in beachy waves.

Bohemian Twists
This do is perfect if you're growing out bangs or simply want to keep your hair off your face.

Rolled Updo for Short Hair
When a lob is too short for a ponytail but you need to get your hair off your face, try this twisted look.

Rolled Updo for Long Hair
The rolled updo, which creates a low ponytail first, also works with long hair.

On humid days, add a thick headband or scarf to any updo to keep frizz at bay. It also hides the signs of day two or three hair.