Skip the tanning booth and get a gorgeous glow with sunless tanners.
Multiple studies have determined too much time in the sun—or a tanning bed—can be dangerous, but a gorgeous glow doesn't have to be. Sunless tanners have come a long way in the last few years. With the right application, most products no longer leave behind unsightly orange streaks. Find out which type of sunless tanner is right for you, plus the steps to take for a beach-worthy glow!
Before You Apply
Follow these tips to ensure your glow will last as long as possible.

Faux Tan Formulas: Which One Is Which?
Moisturizers: If you want a gradual tan that's goof-proof, choose a daily lotion with a hint of color that will gradually build over time.
Lotions: These are often tinted so it's easy to see where you're applying, but blend well to avoid dark spots.
Mousses: These are the easiest to rub in, but dry quickly so blend fast before it's absorbed. The lightweight formula is great for layering so you can build up the color quickly.
Sprays: Great for hard-to-reach areas like your back. Technique may take a while to master, so opt for an easier formula like a mousse if you're a newbie.
Perfect Your Glow
Whichever formula you decide to use, choose a self-tanner based on your skin tone. Pick a light to medium shade if you have fair skin, or a dark shade if your skin has olive tones. To avoid a bad fake tan, apply in sections, and start at the bottom and work your way up. Lotions and mousses should be rubbed on in a circular motion starting at the ankles. Save your arms and hands for last. Apply thinly over joints and blend out into wrists and feet for the most natural look. Sprays should be applied six inches away from your body in slow, steady layers in an up and down motion. Wash hands after every section if you don't use gloves; the color may sink into your palms and in between your fingers.
At the Salon
Prep your skin like you would for any self-tanner before heading to a salon for a professional spray. Ask your salon about protective eyewear before getting a spray tan, or bring your own. There are two types of sprays you can try: a spray-on booth or a freehand spray by an aesthetician. The second option is pricier, but the freehand spray can provide a personalized look (with contouring and toning). To maintain your tan, schedule a spray about every ten days (your skin will shed in about five to 10 days).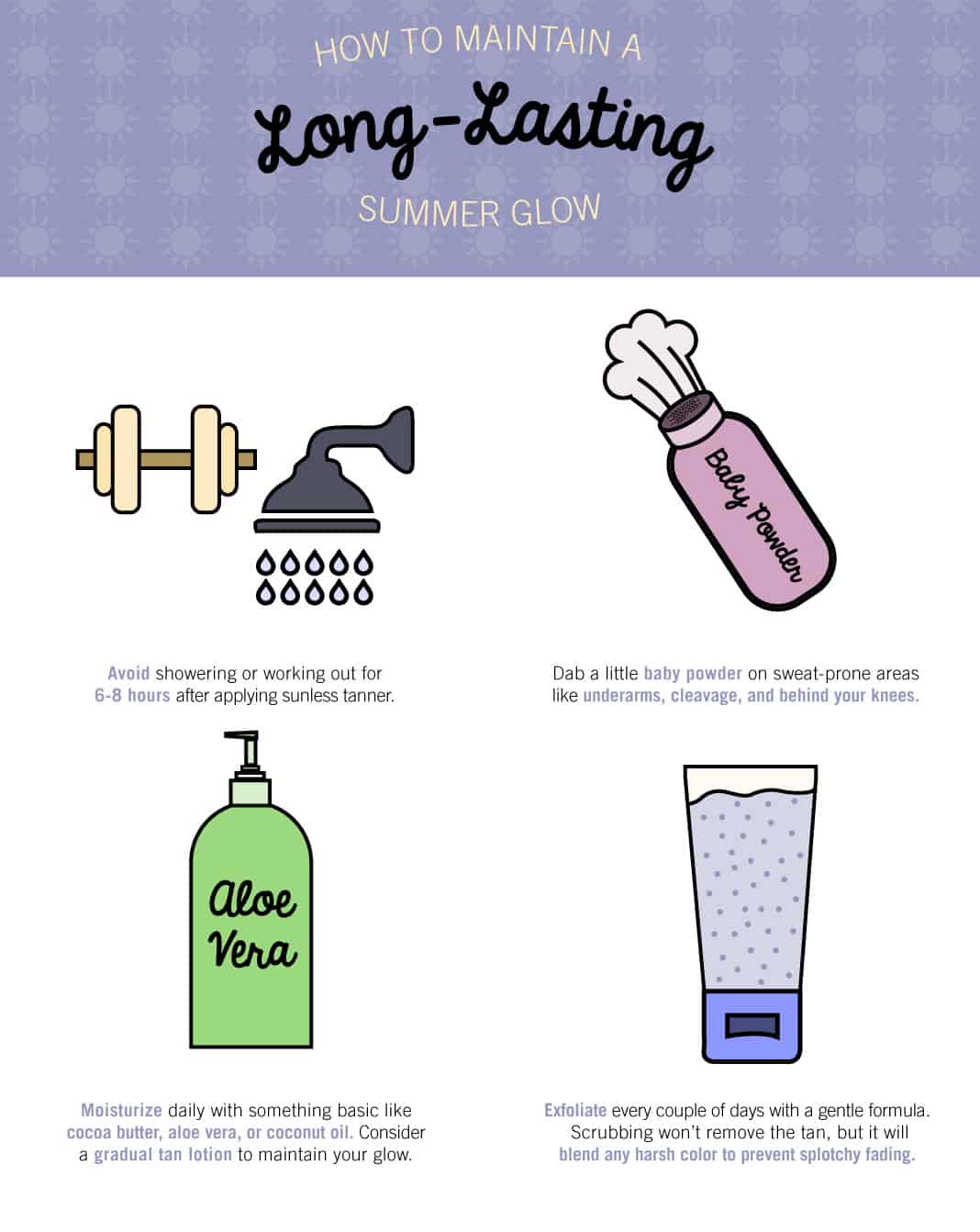 Faux Tan for the Face
Daily cleansing will quickly fade any tanning product applied to your face. Reapply about every three days and choose a product specifically for the face that's noncomedogenic. Body formulas may irritate acne-prone skin. Make sure to blend the tanner well into the hairline and jawline.
The Dangers of DHA
DHA, or dihydroxyacetone, is the active ingredient in sunless tanners that darkens the skin. While it's FDA approved for external use, studies show it can cause genetic alterations if it enters the bloodstream. More research needs to be done, but cut down on inhaling spray tanners at home by applying in a well-ventilated area and make sure to protect eyes at the salon.
While there are dangers to many cosmetic products, sunless-tanning sprays and lotions can be a much safer option than tanning beds and UV rays. Be smart when you apply—if a sunless tanner irritates your skin, do not keep using it. And don't forget to wear sunscreen to protect your skin from sun damage.