If you're not already on the chia seed bandwagon, it's time to try these tiny but mighty seeds. You may know them as the seeds that sprout on those cute terracotta Ch-ch-ch-chia Pets, but they're actually an ancient grain that's been a staple food crop in Central and South America for thousands of years. More recently, they were dubbed superfoods because they're rich in fiber, alpha-linolenic acid (ALA) Omega 3 fatty acids, calcium, magnesium, and other minerals. Plus, they contain large amounts of antioxidants, substances that protect cells from damage caused by oxidation.
Chia seeds look like poppy seeds when they're dry but bulk up and have a gelatin-like consistency when wet. That makes them the perfect ingredient for raw desserts, such as puddings, shakes, popsicles, and jams. They boost the nutrition profile of baked goods and can replace eggs if needed. And to top it off, chia is gluten-free and paleo-friendly. Are you ready to acquaint yourself with these nutritious little seeds? Look for them at your grocery, discount, or health food store, and whip up one of these delicious desserts, all of which contain five ingredients or less.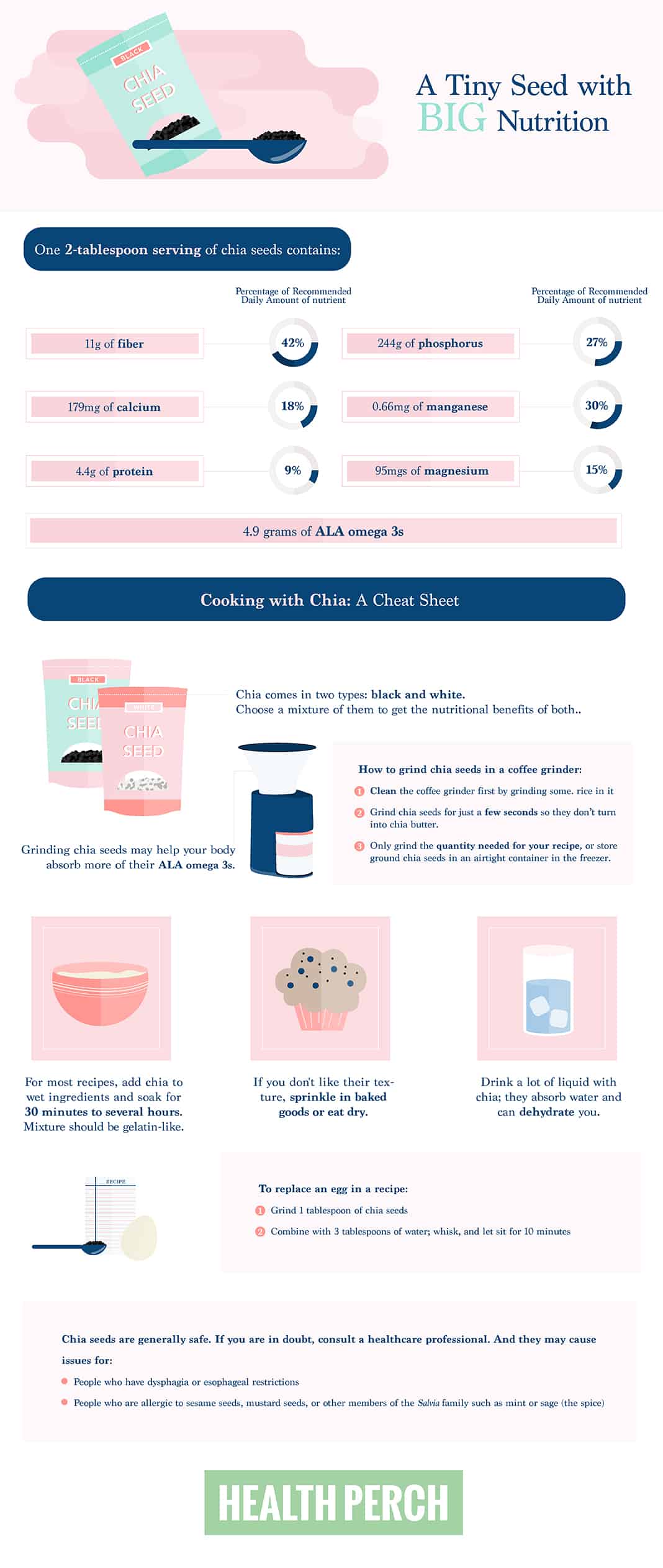 Note: In all of the recipes, you can grind the seeds beforehand, which may help your body absorb more of the seeds' nutrients. Experiment with ground and whole seeds to see which you prefer.
Banana Nut Chia Shake
(Recipe adapted from Healthy Chef)
Makes 1 shake
Equipment:
Ingredients:
1 tablespoon chia seeds
1 frozen banana
1 cup milk (dairy, soy, coconut, or nut)
1/2 teaspoon ground cinnamon
1 tablespoon peanut or almond butter
Directions:
Combine all ingredients in a blender and puree until smooth.
Pour into a cold glass and enjoy.
Coconut Strawberry Chia Pops
(Recipe from Cooking LSL)
Makes 8 popsicles
Equipment:
Ingredients:
1/4 cup chia seeds
1 can coconut milk
4 tablespoons honey or maple syrup (adjust based on preferred sweetness)
1 teaspoon lemon juice
1 1/2 cups strawberries, diced
Directions:
Combine chia seeds, coconut milk, honey, and lemon juice in a bowl and mix well.
Cover the mixture and refrigerate for two hours.
Add the chopped strawberries to the mixture and combine.
Pour the mixture into the popsicle molds.
Freeze for 8 hours or overnight.
To remove popsicles from molds, run under hot water for a minute.
Chia Pudding
(Recipe adapted from Wellness Mama)
Makes 4 servings
No equipment list?
Ingredients:
1/2 cup chia seeds
2 cups milk (dairy, soy, coconut, or nut)
1/4 cup cocoa powder or 1 teaspoon vanilla extract, depending on preferred flavor
2 to 4 teaspoons honey, maple syrup, sugar, or another sweetener
Directions:
Combine ingredients in a bowl and stir; let mixture sit for 30 minutes and up to several hours until it has a gelatin-like consistency.
Stir and enjoy.
Flourless Peanut Butter-Chia Cookies
Equipment:
Baking sheet
Wire cooling rack
Ingredients:
1 tablespoon chia seeds
1 cup peanut butter
1 large egg
1 teaspoon baking soda
3/4 cup lightly packed brown sugar
Optional ingredients:
1/4 cup unsweetened cocoa
1 teaspoon vanilla extract
3/4 cup chocolate chips
Directions:
Preheat oven to 350º Fahrenheit and line a baking sheet with parchment paper.
Combine all ingredients in a large bowl and mix.
Form the dough into 12 round portions; evenly space them on the cookie sheet and flatten with a fork, if desired.
Bake for approximately 10 minutes or until the edges start to crisp.
Transfer to a wire rack and cool.
Chia Berry Jam
(Recipe adapted from The Honour System)
Makes 1 jar
Equipment:
Blender
Glass jar and lid
Ingredients:
1 tablespoon chia seeds
2 tablespoons water
1 cup raspberries, blackberries, blueberries, or other berries
2 tablespoons honey, maple syrup, or sugar (adjust for preferred sweetness)
Directions:
Soak chia seeds in water for 10 minutes.
Combine all ingredients in blender and puree until smooth.
Store in a glass jar in the refrigerator.
Enjoy on a yogurt parfait or in thumbprint cookies.
Conclusion
Don't be intimidated by new-to-you chia seeds. These versatile seeds are a snap to cook with and can be the perfect nutrient-dense addition to your favorite desserts.