Come winter, dry skin cries out for hydration and a moisture barrier to protect it from the wind and cold, dry air. Massaging in a luxurious, whipped body butter with warming scents may sound pleasant, until you read the long list of ingredients that could make your skin itchier and drier. To feed your skin the nutrients it craves, you can make your own non-toxic, plant-based body butter at home. Read on to learn how to whip up a custom body butter with only a few ingredients: butter (solid), oil (liquid), and essential oils (fragrance and therapeutic benefits).
Body Butter Bases
To create your own body butter, first you need to decide which butter — or combination of butters — you'd like to use.
Cocoa butter: Derived from the cocoa bean, cocoa butter has a nutty, chocolate aroma that will leave skin smelling delicious without any added essential oils. The fatty acids can help retain moisture and the high levels of antioxidant flavanols may effectively prevent and treat skin diseases and fend off further damage that leads to premature aging.
Mango butter: Growing evidence touts the beneficial medicinal properties of mango butter, including the ability to heal wounds, reduce wrinkles, and protect skin from further damage. Mango butter has similar amounts of fatty acids as cocoa butter and since it has a very faint scent, mango butter makes for a great alternative. It's also easier to adjust your custom fragrance with essential oils.
Shea butter: Extracted from the kernels of the shea tree, shea butter is composed of fatty acids and triterpenes, a group of compounds that can enhance tissue repair. It also contains potent anti-inflammatory and antioxidant properties.
Apricot butter: Packed with vitamin A, apricot butter may help treat psoriasis. The emollient properties can also help skin retain moisture and eliminate patches of dry skin.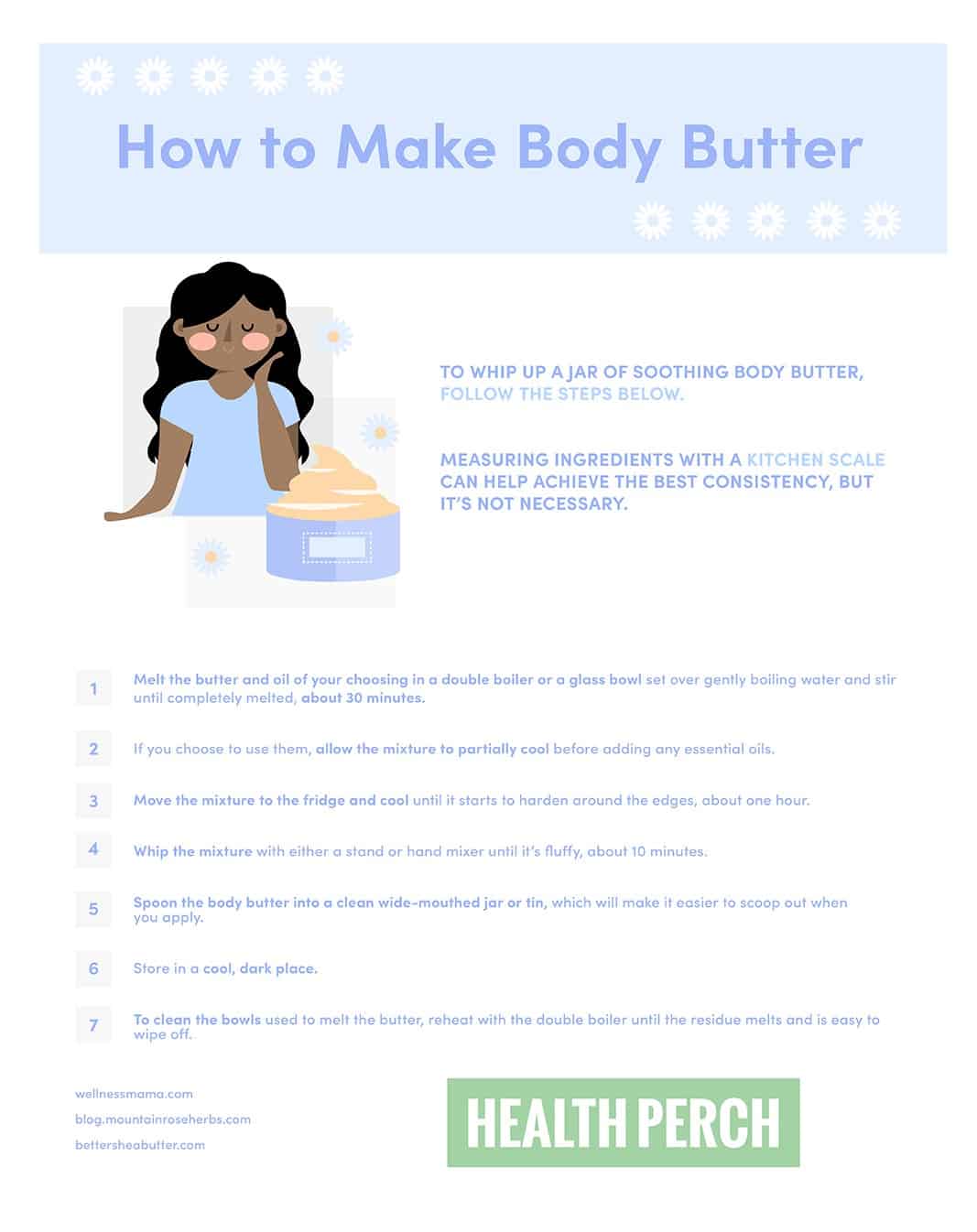 Body Butter Oils
Adding oils to your body butter will make them smoother and easier to spread while adding extra skin health benefits.
Almond: Studies have shown that almond oil can improve complexion and skin tone. Packed full of vitamin E, zinc, and fatty acids, this oil can help treat dry skin conditions such as eczema and psoriasis. Almond oil comes in two types: sweet and bitter. Sweet almond oil has been shown to be more effective in preventing stretch marks, while bitter has no effect.
Jojoba: Although labeled as an oil, jojoba is actually a liquid wax ester similar to the sebum naturally produced by our skin. This liquid wax has moisturizing benefits and can help skin feel softer. A study on mice showed it has anti-inflammatory, anti-aging, wound-healing, antioxidant, antibacterial, and antifungal properties.
Coconut: Clinical studies show coconut oil can improve inflammatory skin disorders, such as atopic dermatitis and psoriasis, by soothing and moisturizing skin. The anti-inflammatory properties of coconut can also protect the skin by enhancing the skin barrier function. Choose an unrefined virgin cold-pressed oil which retains more nutrients than more processed versions.
Olive: Studies are mixed on olive oil as a treatment for dry skin. It is rich in vitamins A, D, E, and K, which help moisturize and protect skin from damage. Olive oil can have positive effects on the skin, such as accelerating tissue repair and treating burns, but evidence also shows it can have a negative effect on the skin barrier, the outermost layer that protects your body from environmental threats and skin from inflammation. If you do choose olive for your body butter, opt for an organic, extra-virgin option.
Avocado: When used topically, avocado oil may promote the healing of skin wounds, maintain skin hydration, and minimize damage from free radicals (unstable molecules in our environment that can damage skin cells). It's a safe option for people with eczema, acne, dermatitis, or psoriasis.
Rosehip seed: Rose hips have traditionally been used for their medicinal properties. Rosehip seed oil absorbs into skin easily without leaving an oily residue. And inhalation of this oil can decrease water loss, resulting in more hydrated skin.
Essential Oils
While you don't have to add them, essential oils can infuse relaxing and therapeutical properties to body butter. Common essential oils include lavender or vanilla (relaxing), peppermint (stimulating), tea tree (antiseptic), and eucalyptus (decongestant and antibacterial). Since they come highly concentrated, you will only need about six drops of essential oils for a seven-ounce jar of body butter.
Essential oils also make it easy to mix up different body butters for gifts or to keep at home for various needs. Since oils are temperature sensitive, wait until your mixture has cooled to at least 75 degrees before mixing in.
Conclusion
With a thicker consistency than lotions and oils, body butters effectively moisturize tough, dry spots when skin needs lots of hydration. When made at home without irritating additives, body butter delivers essential nutrients to hydrate sensitive skin and maintain moisture. By making it at home, you can customize yours by choosing butters and oils that suit your skin's needs