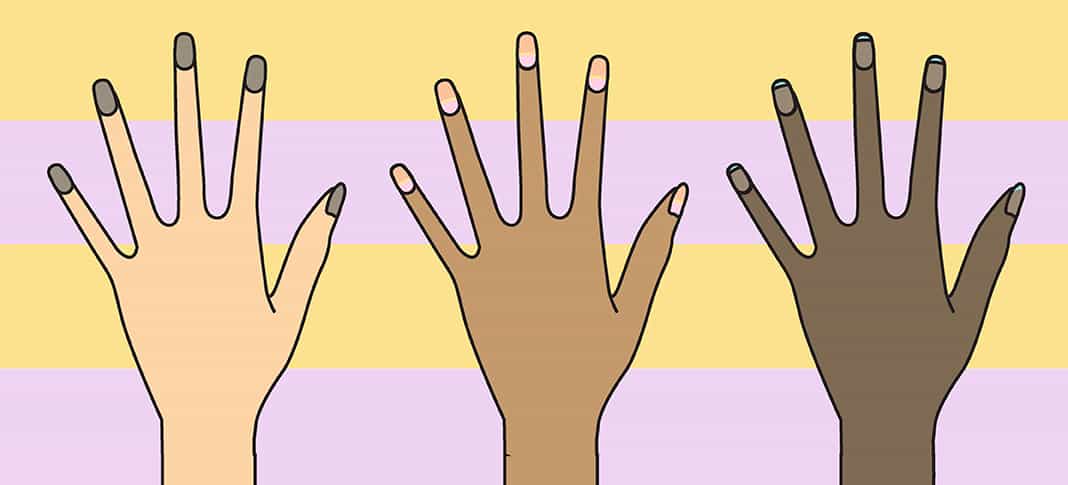 The nails on the runway never disappoint, and this spring was no different. From new nudes to bold and glittery, the latest trends offer a range of options to try. Remember: Even the most unique trends can be subdued for an everyday look for any age. Read on to learn how to incorporate the latest nail trends into your style.
Get in Shape
Nails come in all shapes and sizes. Although stiletto nails are still trending, natural nail lengths dominated the runways this spring.
Short and Rounded
Keeping nails short requires little maintenance, and short nails look great with almost every color. The short length works well with longer fingers.
Square
The ever-popular square shape is one of the sturdiest, so if your nails tend to break easily, try this option.
Oval
This longer shape is still elegant and practical for every day, but the extra space allows for more creativity if you want to rock some more intricate nail designs. It's perfect for wider nail beds or short fingers because it elongates and offers a feminine appearance.
Almond
A less extreme version of the stiletto nail, this shape is long with a soft point (similar to an almond). Painted with a neutral color, this shape can be classy and fun.
The best way to get your desired shape is to use a nail file. File in one direction; back-and-forth sawing can cause breakage, especially if you have longer nails. Start at one side and file to the center at a 45-degree angle, file the other side, then finish the top until you achieve your desired shape. To achieve square nails, file straight across in one direction.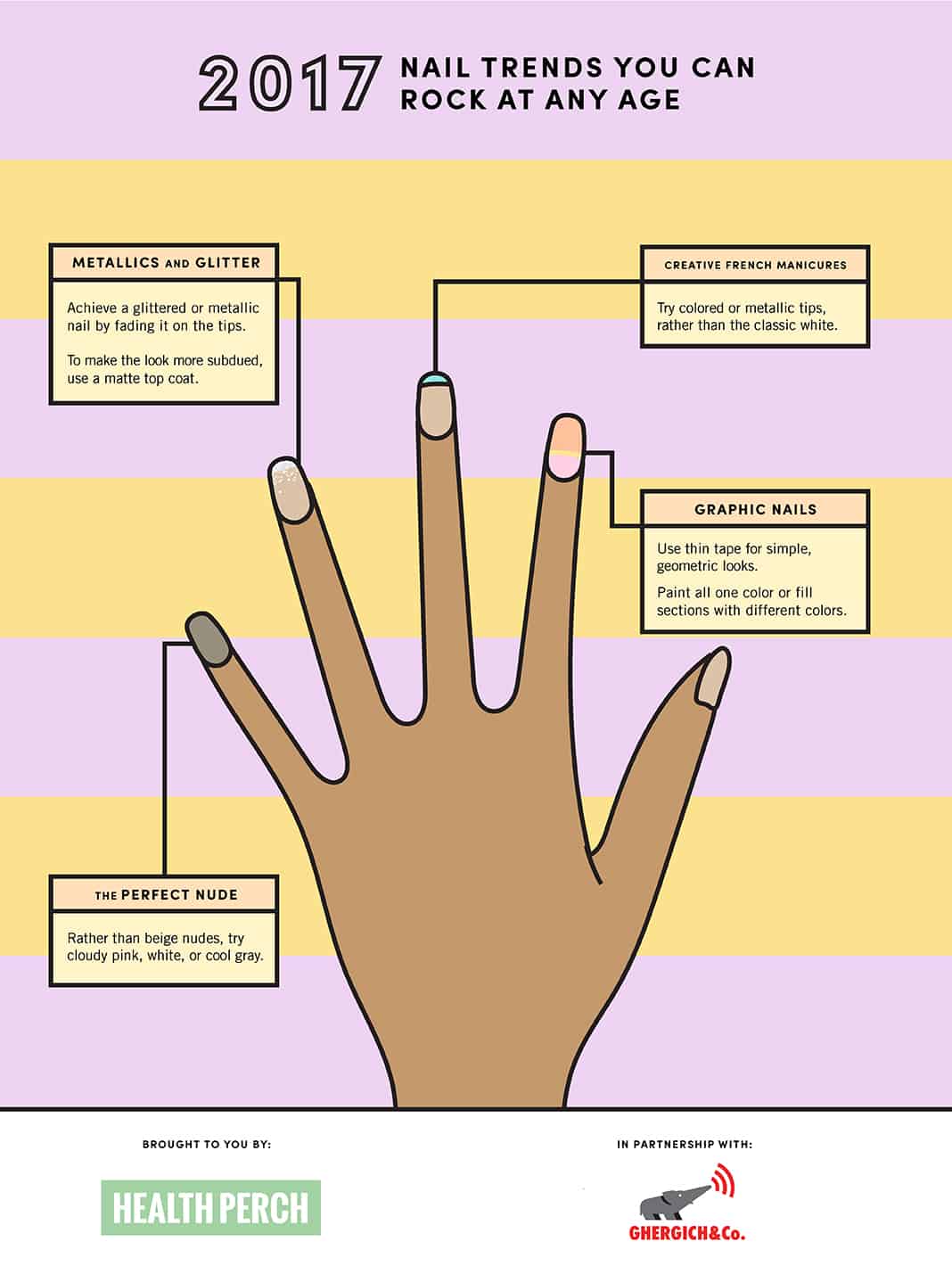 The Perfect Nude
Chances are nude nails will never go out of style, but if the same manicure is getting boring, you can add a twist to this classic. Put away the usual neutral and try a cloudy pink, cool grey, or all-white. If you want to add a little more spice, outline the cuticle edges with a gold polish, sweep a bright color diagonally across your nail, or add subtle black stripes. The splash of color will be fun but still office appropriate.
Creative French Manicures
The classic French tip gets modernized this year with fun colors and different angles. Update your usual mani by painting the tips a metallic or bright color. Nails that appear to have been dipped are also a big trend. Create the look by dipping a fan brush into your favorite hue and sweeping it back and forth across the upper half of the nail, leaving the bottom half bare.
Metallics and Glitter
From home décor to clothes and nails, metallic gold and silver is trending this year. To keep your nails from overpowering the rest of your outfit, swipe on a matte top coat to keep it subdued. If the dark metals are too edgy, look for a metallic copper or dark pink that will be fresh yet chic.
With subtle placement, glitter can achieve a more grown-up feel. Perfect for holidays or a special occasion, swipe a glitter polish on the tips in a similar hue as your base coat (such as gold). For a simple yet girly effect, place hexagon glitter, on top of a nude color, in a triangle at the base of your nail.
Graphic Nails
Stripes and geometric shapes are playful and surprisingly easy to do yourself. Create rainbow stripes by starting with a light color for the base, then placing thin pieces of tape diagonally or vertically on dried nails, before swiping on multiple colors. Geometric shapes can be created by painting squares or circles with bright colors. The longer your nails, the more space you have to play with!
Healthy Hands
A perfect mani will look its best with moisturized, healthy hands. To avoid dry, cracked hands, rub on a hand cream after you wash your hands (the scrubbing strips skin of natural oil). Look for creams with petrolatum, an ingredient that acts like a barrier to lock in moisture. Wash hands with lukewarm water and avoid hand sanitizers because the alcohol is drying. Household cleaning products can be harsh on skin, so its a good idea to wear gloves when cleaning to protect hands.
For rough skin, mix together equal parts olive oil and sugar, and massage onto hands. The omega-3 fatty acids from the oil help moisturize while the sugar scrubs away dry patches. Apply a hand cream with SPF daily to protect against sun exposure.
The skin on the top of your hands is thin and can show signs of early aging from sunlight and everyday wear and tear. Skin is less efficient at repairing itself starting in your 30s, so it's important to keep up a routine similar to your nightly face routine to maintain youthful hands. At night, apply a retinol cream to reduce fine lines and dark spots.
Have Fun
Experiment with this year's nail trends and find your favorite style. If DIY manicures are daunting, head to the nail salon and request a trendy design from an expert.