Which Beauty Products Should You Spend Extra On?
There are a vast variety of beauty products with a range of price points. In many cases, high-end products aren't worth the money. The same ingredients in luxury lines often can be found in budget-friendly products at the local drugstore. So don't be fooled by hyped-up marketing and pretty packaging. We break down which products are worth the splurge and which ones are not.
Skin Products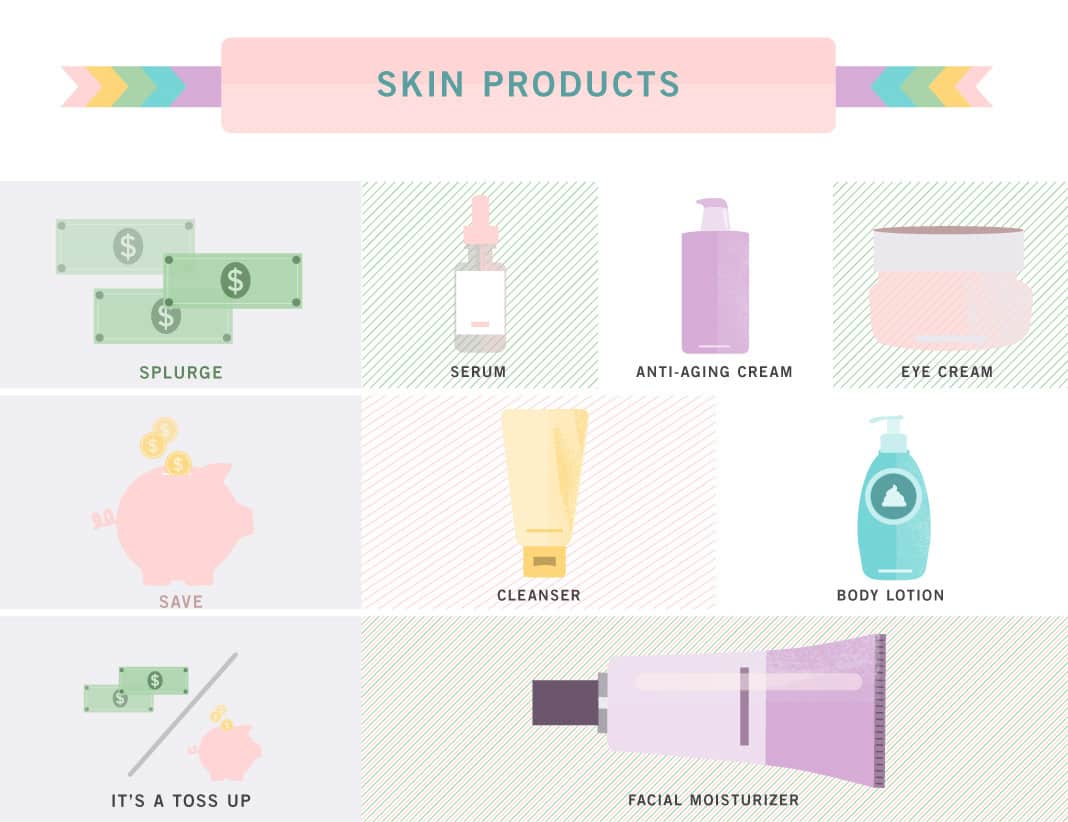 Splurge
If you only invest in one item, make it a serum. Serums penetrate deep into the skin where moisturizers cannot reach to deliver ingredients moisturizers. They target different needs including acne and free radical prevention. While the price tag may be hefty, a tiny amount of the concentrated serum goes a long way.
Don't skimp on anti-aging creams or eye creams: They can help regenerate skin overnight. Look for anti-aging creams with vitamins E and C to hydrate, and retinoid to help build collagen. Invest in an eye cream with hyaluronic acid to moisturize the delicate eye area.
Save
No need to splurge on cleansers: Some of the cheapest options remove oil and dirt effectively. Find one that works with your skin type and stick with it. You may need to switch cleansers from season to season; just pay attention to what your complexion needs.
Save on body lotions too. Avoid spending big on a product you slather all over. Many drugstore versions hydrate parched skin for under $10 a bottle.
It's a toss up
Depending on your skin type, facial moisturizer is a toss up. For oily skin, a daily SPF moisturizer from the drugstore should sufficiently hydrate and protect. But if you're in the market for more powerful ingredients, such as retinol or glycolic acid, consider splurging on products that smooth complexion, reduce the appearance of wrinkles, or add more intense hydration for dry, flaky skin.
Makeup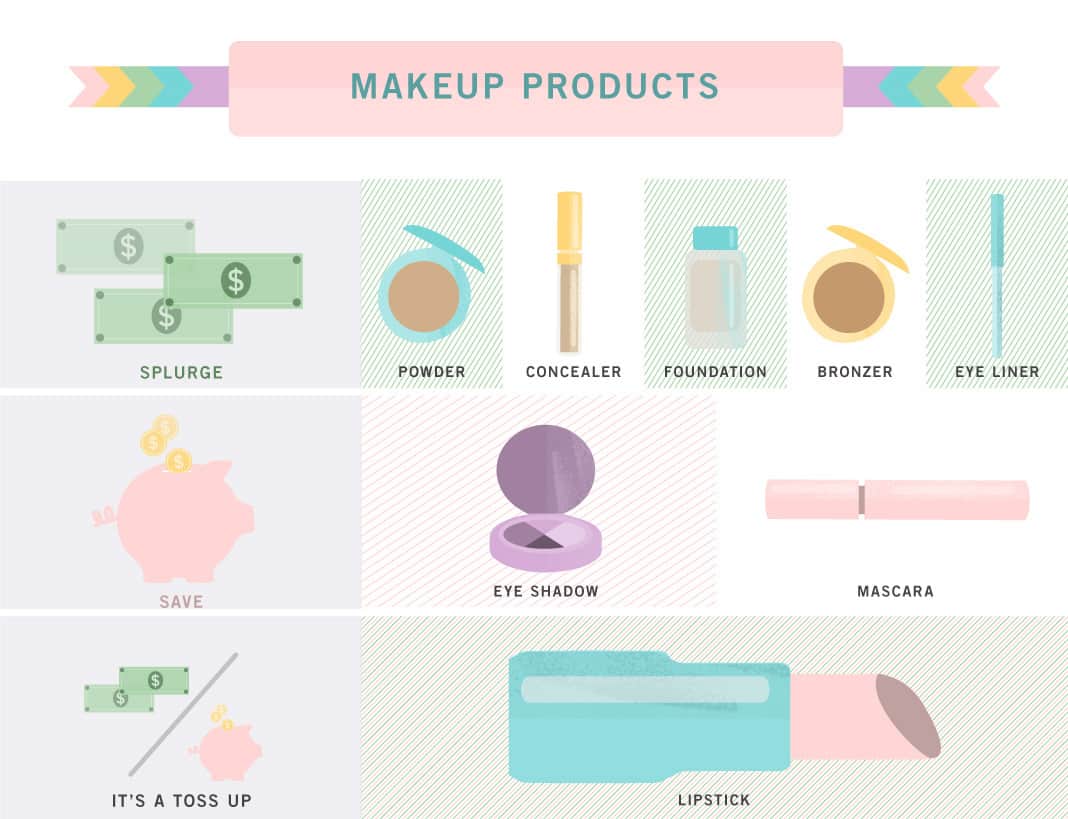 Splurge
Take the guesswork out of foundation selection by hitting the beauty counters at a department store. With the help of a beautician, you can sample different shades and formulas. A luxury line offers more color options and often includes fewer harsh ingredients.
While shopping for foundation, find a concealer, powder (though any brand of translucent powder sets makeup), and bronzer that complement your complexion. High-end bronzers have a more believable color and blend easier. Plus, department store and beauty store compacts often last longer than drugstore versions.

If you want an eyeliner that glides on smoothly and stays all day, splurge on a high-end brand. They are usually waxier and provide a smoother application. Cheaper versions tend to break more easily, grab at the delicate eye area during application, and wear away more quickly.
Save

If you're dying to try the latest trend of blue eye shadow, pick out an inexpensive version at the drugstore and invest in a luxury brand if you love the color. Trendy colors can go out of style and you'll probably get more use out of neutral ones. While drugstore eye shadow may sometimes have less pigment than pricier options, you can control the depth of color by layering or using a primer first.
There's little difference between high-end and low-end mascaras. Opt for the latter, especially since tubes should be thrown out about every three months to prevent dangerous bacteria growth.
It's a toss up
Lipstick is a toss up, depending on the look you want to achieve. Drugstore brands have a large variety of colors, and the pigments and textures can rival high-end brands. However, the color in the tube may differ from the color on your lips. More expensive brands can have lip-conditioning ingredients, a plus if your lips chap easily. Test out colors at a department store, then spend the money on the perfect one.
Hair Products

Splurge
If you dye your hair or want to combat a specific problem such as frizz, you may want to consider your hairstylist's salon recommendation. One category you should definitely splurge on: tools. Cheap brushes can snag and break your hair, so look for boar and nylon bristles that deliver shine and detangle easily. If you're going to use hot heat on your hair, splurge on tools made with ceramic plates, which are less damaging.
Save
For the most part, it's fine to stick to economical hair products such as shampoo, conditioner, and hairspray (especially if you do not dye your hair).
It's a toss up
Hair dryers are a toss up: Thanks to ionic technology, pricey ones speed up drying time but bargain brands still get the job done.