Eyebrows are a prominent facial feature, so it's no surprise we spend money on products to fill and define our arches. In fact, beauty aisles are full of products to help you achieve your desired eyebrows: pencils, gels, powders, and stencils. But there's a new procedure that's more permanent and looks natural: microblading. Keep reading to learn if it's right for you.
What is it?
Microblading uses a special pen to draw on hundreds of individual strokes to build a texture similar to natural hair. Pigment is deposited into the skin, but it's not as deep as a regular tattoo. The process takes about two hours; experts meticulously draw on the shape with a pencil before drawing each hair with the pen. Patients can request desired thickness and arches, but the pros take measurements on the brow bone to determine the best shape.
Pain is usually minimal, but depends on pain tolerance. A numbing cream is applied beforehand and the pain, if any, feels similar to plucking.
How long does it last?
The new eyebrows are picture ready immediately after the initial procedure but experts recommend a follow-up appointment one month later for touch-ups. Brows look dark at first but fade by about 30 to 40 percent.
After the first appointment, avoid exercise for one week. Once your brows are completely healed, maintenance is minimal. They last one to three years but experts recommend scheduling a touch-up once a year.
How much does it cost?
Pricing depends on your location but expect to pay at least $500 for each session (the follow-up should be included in the initial price). Since it's a form of tattooing, research and find someone with experience and a portfolio of before and after photos.
Who benefits from microblading?
Whether you have no brows, sparse blonde brows, or dark brows that need to be filled in, microblading can help you achieve a natural look. The procedure can restructure and define eyebrows as well as cover gaps. Color is hand-mixed by the pros to match any existing hair and is implemented with extra fine needles instead of a tattoo gun.
The result is more natural than getting your entire eyebrow tattooed, but it will eventually fade. After one to three years you may decide to choose thicker or thinner arches so the fading can be a plus.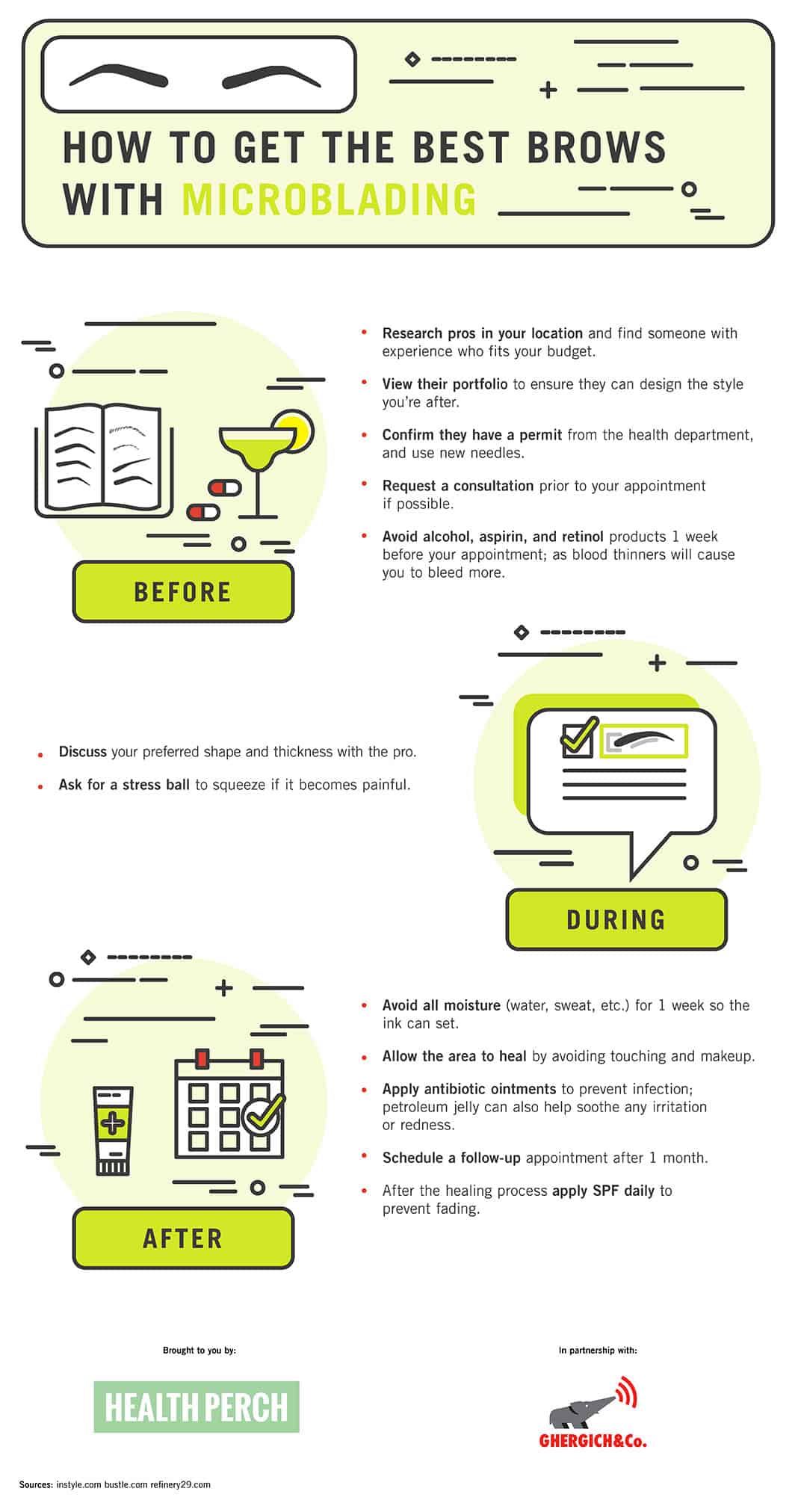 Potential drawbacks
Although microblading eliminates the need for eyebrow makeup, it can be expensive, especially if it fades quickly. If you're looking for a more permanent solution with fewer follow-up appointments, then a full tattoo may be a better option.
It may also take a few sessions to achieve your desired look. Your eyebrows may be dark initially but soften over time. Touch-ups are usually needed between six months and one year, depending on your skin type and lifestyle. Oily skin or frequent exfoliation can speed up the fading.
Irritation or allergic reactions are possible. Minor pain after microblading is normal but if skin becomes puffy or excessive redness doesn't go away, it could be a sign of an infection. If the pain is unbearable or continues after two weeks, visit your doctor.