Abdominal pain can come in a wide variety of forms. This stands to reason: The abdomen houses many of our internal organs (not to mention muscles and connective tissue). While it's unreasonable to expect everyone to have a full understanding of what every type of abdominal pain could mean, a skilled clinician is likely able to discern the problem plaguing her patient based on the patient's history. And that means that having a basic knowledge of your abdominal anatomy—as well as an understanding of some of the common ways physicians characterize pain and the types of questions they may ask—can help you narrow down potential causes of your discomfort and make conversations with a medical professional much simpler.
It's worth noting that not every incidence of abdominal discomfort requires immediate medical attention. However, if your pain is severe, won't go away, keeps coming back, or you suspect it's due to an injury, get yourself to a doctor. Seeing a doctor is also the right call if you have accompanying chest pain.
Understanding Your Abdomen
To get started, let's take a look at the organs that make up your abdomen, keeping in mind that not every organ fits neatly into just one quadrant. Moreover, pain can radiate, so pain in your upper right quadrant could be caused by an inflamed organ located in your lower right quadrant. Organs residing in the chest or pelvic areas are close enough to the abdomen to occasionally cause discomfort there as well. Use this list as a starting point, but keep in mind that there's more to diagnosing your pain than just this anatomy lesson.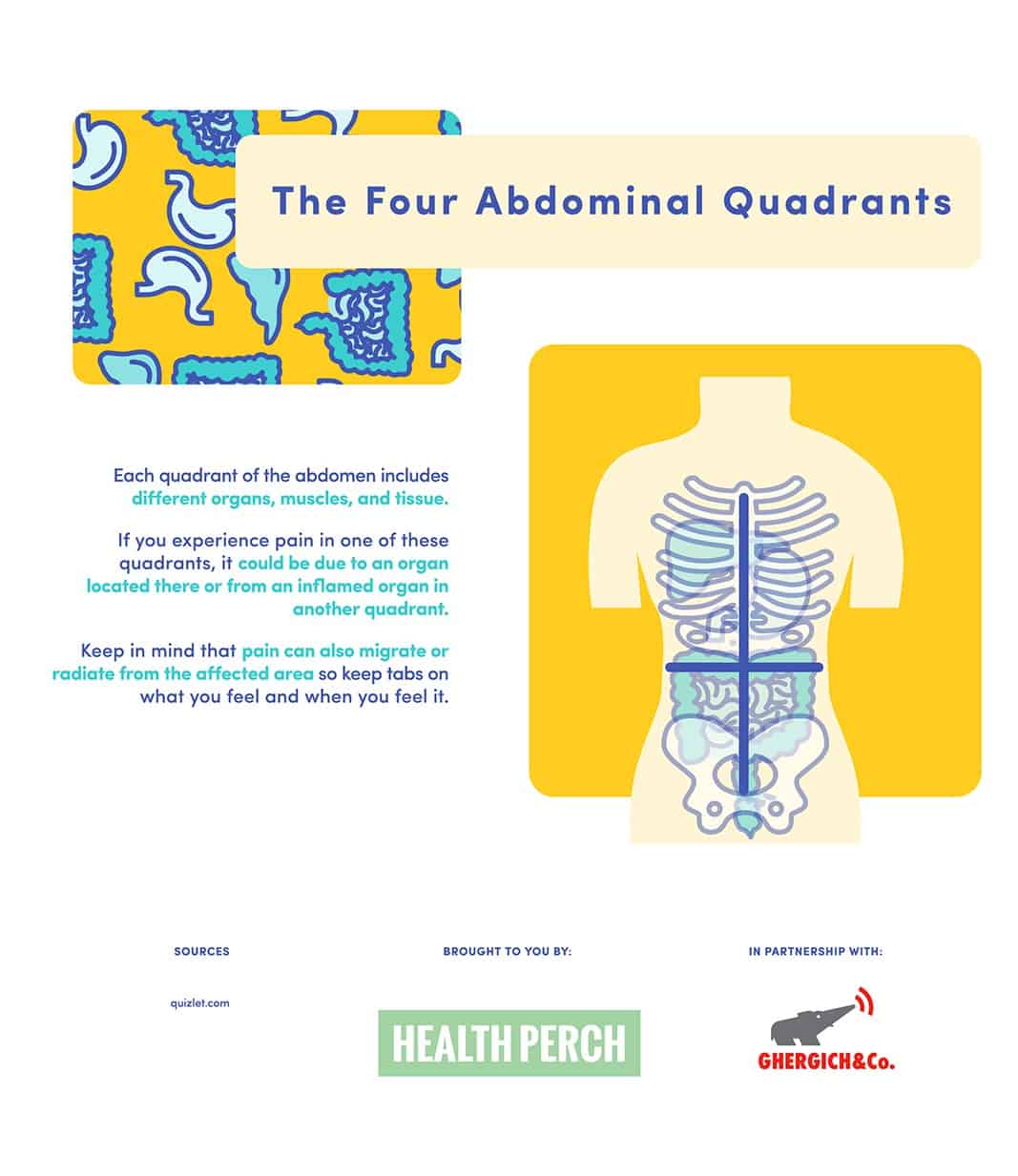 Describing Your Pain
There's more to describing discomfort than stating whether it hurts a lot or a little. And of course the more specific you are, the better chance a medical professional has at accurately diagnosing you. Ask yourself the following questions to help glean a more detailed description of the pain you're experiencing.
Where is the pain located? Is it upper, lower, left, or right?
How intense is the pain? Is it mild, moderate, severe, or unbearable?
What is the pain like? Would you describe it as cramping, aching, dull, stabbing, pressure, or something else? And is it constant, or does it come and go? If it goes away, is that based on an action you take (changing position, eating, using the bathroom) or does that happen on its own?
Is the pain localized? Can you tell exactly where the discomfort is, perhaps noticing an increase in pain if pressure is applied? Or do you feel it more generally, perhaps along with nausea or vomiting?
Does the pain migrate? Is it always in one place, or do you sometimes feel it in one area and then later feel it elsewhere?
How did the pain start? Was the onset sudden (within a second), rapid (occurring within a few seconds and steadily increasing), or gradual (developing and increasing over the course of hours or days)?
Common Symptoms and Causes of Abdominal Pain
With so many organs and other areas that can be a source of pain in your abdomen, there are a vast number of potential symptoms you could experience with many different causes. But some are much more common than others, so if you're experiencing abdominal pain, you may want to see if your symptoms match one of the causes on this list. Then, you can decide whether you should call the doctor or perhaps could just use a nice belch.
Let's begin with a few common but less serious causes. Unless these persist or are severe enough to cause concern, you may be able to treat your symptoms at home.
Other causes of abdominal pain that may be more serious and require medical attention include:
Abdominal pain is very common, and often it will resolve with time, rest, and perhaps a little less fiber in your diet. If the pain lingers, make sure to schedule an appointment with your medical professional. It's always better to be safe than sorry!