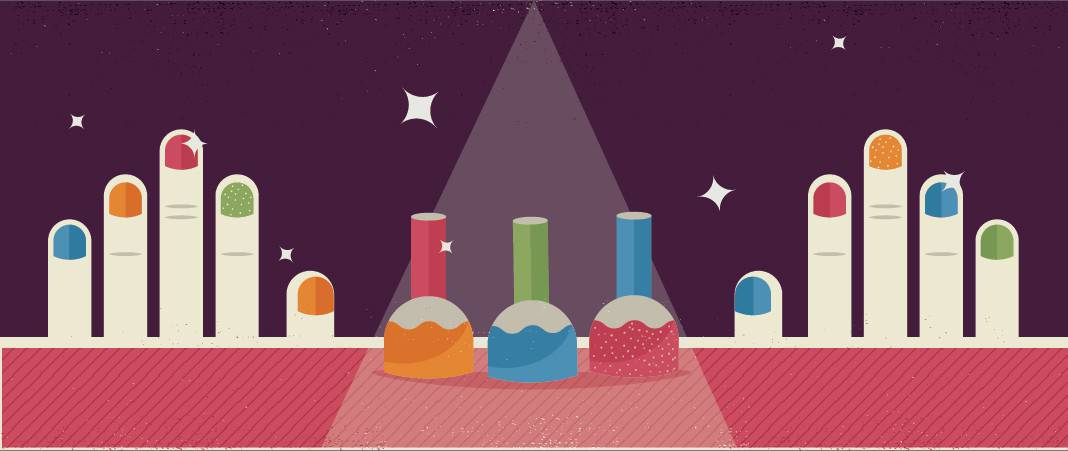 You pat on eye cream twice a day, seek shade from wrinkle-causing UVA/UVB rays, and head to the salon to zap pesky grays. But what about your hands?
That's what we thought. It has been said that the hands are the ultimate tell when it comes to your age. But before you reach for desperate measures, know this: the right color nail lacquer can be the key to brighter, younger-looking hands while giving your entire look an extra pop of elegance. "A great manicure is not only a fun treat for yourself, but it shows real attention to detail and an extra level of grooming," says Elise Wright, editor at Pedicure.com. Ready for the secrets? Here, Wright shares her best insider tips for a beautiful, naturally anti-aging manicure.
Watch Out For Blue Tones
If your hands are sporting bluish veins, steer clear of any blue-toned reds, plums, or straight up blues and greens. "These colors emphasize the veins in the hand," warns Wright.
Try An Orange-Red
If you love a classic red, pick something with a hint of orange to brighten up the whole hand. Need to tell the difference between a blue-red and an orange-red? "Hold up the color in question next to a blue or orange bottle," says Wright. Still can't decide? Your nail tech is a good source, too.
Our pick:  Zoya Nail Polish in Haley $8, zoya.com
Never Go Wrong With Neutrals
Nude polish may be an emerging trend, but its anti-aging power is here to stay. Neutral colors like nudes, light whites, and baby pinks elongate stubby fingers while giving the whole hand a touch of classic elegance. "The key to picking a great nude is pairing it with your foundation," says Wright, who suggests OPI for its wide range of neutral shades.
Our pick: OPI nail lacquer in Did You 'ear About Van Gogh? $9, opi.com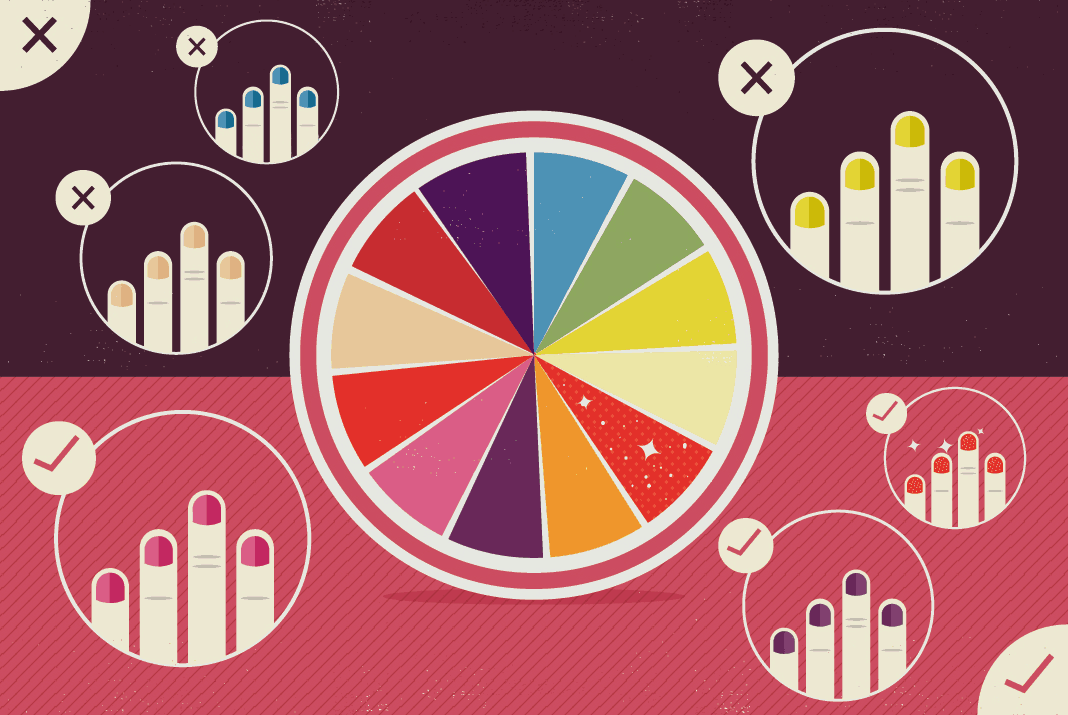 Choose Dark Polishes Wisely
Brown age spots are usually the result of over-exposure to the sun's ultraviolet rays, so it's no wonder your hands are extra susceptible. If your hands are sporting a few, be wary of the deep, dark browns, blacks, and purples that crop up during fall and winter. While gorgeous on short nails, their brown undertones emphasize spots. Instead, choose a pretty, creamy plum or cranberry for a chic wintery look.
Our pick: Essie nail polish in Bahama Mama $8.50, essie.com
You're Always Safe With Pink
There's a reason you navigate toward the pink polishes at every manicure—it's reliable, it's fun, and there's a pink for every outfit. The lighter shades of pink help shape longer, slimmer fingers, says Wright. But if your hands are not your favorite feature, go for a bright pink. "A good bright pink will keep the eye on the nail, rather than the whole hand."
Our pick: China Glaze nail lacquer with hardeners in Pink Voltage $7.50, ulta.com
Try A Little Shimmer
Glitter nails are a hard trend to resist, but a little goes a long way. Wright suggests trading in a chunky glitter polish for one with a touch of metallic. "When it catches the light, it adds just that little bit of interest," she says, which is particularly important if your daily uniform consists of dark suits or a monotone palette.
Our pick: butterLONDON nail lacquer in The Old Bill $15, butterlondon.com
And The #1 Color To Avoid Is…
There aren't many blanket rules in the world of beauty, but there's one when it comes to an anti-aging manicure: yellow nail polish. "Yellow polish makes the hand look sallow and sickly, especially if your hands are dry," says Wright. And really, whose aren't? Stick with a gorgeous gold instead.
Our pick: Orly nail lacquer in Luxe $8, ulta.com