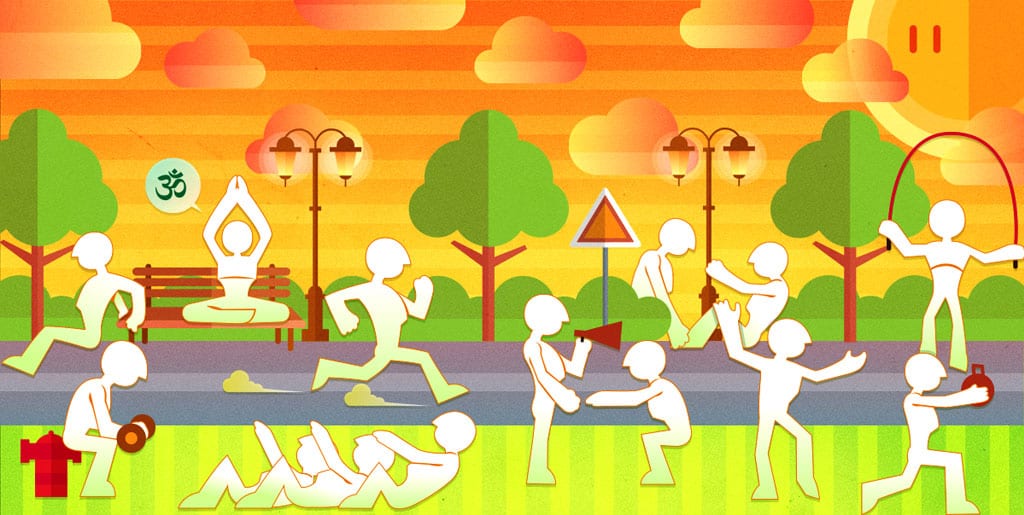 Find out which of the year's hottest workouts will get you back on track
We happen to think the beginning of the year is a great time to get in shape. Not only do you have the biggest eating holidays of the year behind you, but being six months away from bathing suit season means you can make—and meet—healthy weight loss goals.  If you have been down this road before, you know there's a lot more to getting the body you want than watching what you eat. If you want the whole package, you'll have to hit the gym. And for some serious inspiration, the American College of Sports Medicine released their list of the top 20 fitness trends for 2014, as chosen by over 3,800 fitness pros. Here, we break down the top 10:
1. High-Intensity Interval Training (HIIT)
Since 2008, the top spot on the ACSM survey was held by "Educated, Certified and Experienced Fitness Professionals." But HIIT, which involves short bursts of activity followed by a short period of rest or recovery, takes the cake this year. HIIT programs aim to achieve maximum calorie burn in the shortest amount of time—most workouts top out at 30 minutes. The best part? Most of these programs work your full body, so no need to waste time with "arm days" and "leg days" at the gym.
2. Body Weight Training
Body weight debuts at #2 on the list—and we're a bit surprised it took us this long to catch on!  Body weight exercises are exactly what you think they are: moves that use only your body weight to trim down and sculpt muscles. And we're not just talking about push-ups and pull-ups, either. It's back to basics and affordable: two great qualities for fitness-phobes.
3. Educated and Experienced Fitness Professionals
Your Zumba teachers are no longer former-ballerinas—fitness instructors are now becoming more qualified than ever. With more and more organizations offering certifications, it's more important than ever to choose a fitness instructor that's the real deal. The ACSM suggests choosing someone certified through programs that are accredited by the National Commission for Certifying Agencies (NCCA). Even though it dropped to number three after a six-year reign at the top, it's pretty clear that individualized training is still very much 'in.'
4. Strength Training
For the body you really want, you can't just hop on the elliptical three days a week. A hearty balance of cardio and strength training is necessary for toning up and feeling stronger than ever, and we're happy to see this fitness component at number 4. Start by dedicating an hour a day, three days a week to a different body part—one day for legs and butt, one for back and abs, and one for chest and arms (for tank-top worthy arms, check out these essential flab-busting moves).
5. Exercise and Weight Loss
They call it diet and exercise for a reason! And as it appears on this list, more and more health and fitness professionals who provide weight loss programs are incorporating regular fitness along with safely restricting calories to help them see results on the scale. Take this trend to the streets and see if your gym offers a consultation with a nutritionist. She can help you build a healthy, affordable meal plan that fits into your life and your workout.
6. Personal Training
More and more students are majoring in kinesiology these days, which means they're preparing themselves for careers in allied health fields such as personal training. Education, training and proper credentialing for personal trainers have become increasingly important to their employers, and so they should to you. If you've never had a personal trainer before and crave individualized attention, this would be the year to do it!
7. Fitness Programs for Older Adults
Further proof that it's never too late to be as healthy and fit as you've always wanted to be. And now, more gyms, trainers, and fitness brands are taking the time and care to create age-appropriate fitness programs tailored to your wants and needs. Hey, you might find you have more time than you did when your kids were young. Whatever your reason, your health is certainly on trend.
8. Functional Fitness
It's okay if you're not training for a 5K, competing in a bodybuilding competition, or gearing up for a certification. If you're working out to make daily life a little easier, the trends are bending in your favor.  Workouts that involve light strength training and focus on flexibility translated to improved balance and greater ease in daily life.
9. Group Personal Training
Think you can't afford a personal trainer? Well guess what; they know you can't, too. That's why more and more trainers are offering their services in a group setting—anywhere from two or three people to a full class size. The benefits are easy to get behind: you get a more personal experience for a cheaper rate, plus workout buddies to push you and keep you accountable.
10. Yoga
Yoga is making a comeback—it hasn't been seen on this list since 2009! Based on ancient tradition, yoga involves series of postures and poses to relax and center your mind while building strength and flexibility. Yoga can help heal all sorts of ailments from back pain to hot flashes. And with the increasing availability of at-home DVD programs and affordable classes, this could be your year to hit the mat and see what all the fuss is about.