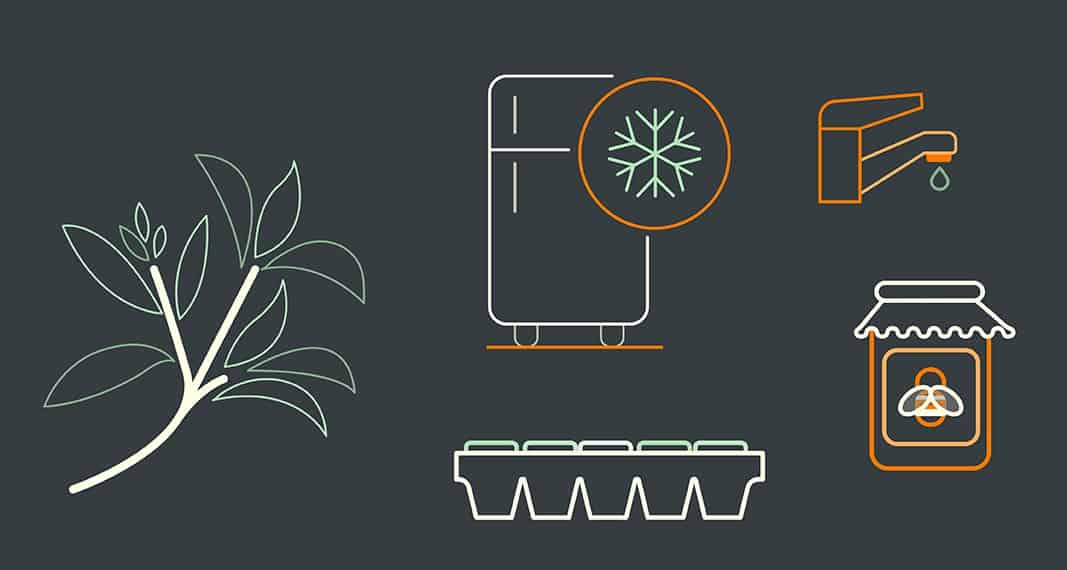 Sage—a.k.a. common sage, garden sage, kitchen sage, true sage, Dalmatian sage, or broadleaf sage—is a prevalent herb used worldwide in cooking and herbal medicine. Whether you opt for the fresh or dried form, sage adds a warm, pine-like flavor with hints of rosemary and citrus to any dish.
Health Benefits of Sage
Thanks to its hefty dose of antioxidants, sage may help combat everything from pain and inflammation to bacterial and viral infections (especially when taken as a supplement). Some evidence also suggests that sage can help improve cognition and combat depression.
That doesn't mean it's time to start chomping on sage leaves—the delivery mechanism matters. Sage tea, for example, is traditionally used to treat problems with digestion, circulation, and mouth/throat inflammation (including bronchitis, cough, and asthma) to name a few. Sage oil, on the other hand, is known to have antiseptic properties and has been used to treat nervous system diseases as well as circulatory, respiratory, and endocrine issues. Sage also comes in capsule-form, which has been used to reduce the severity of certain menopause symptoms.
The one time we know it's definitely not safe to take sage as a supplement is during pregnancy. In larger quantities, sage can cause contractions and increase blood flow to the uterus before it's safe to go into labor.

Using Fresh Sage
There are two ways to cut fresh sage: mince or chiffonade. For either method, start by stacking leaves into an orderly pile. To mince: Rock your knife through the pile, creating uniform slices as you move from one side of the stack to the other. Once you get through the whole pile, rotate the leaves and repeat the same motion the other direction. Keep going until you are left with a pile of very fine pieces. To chiffonade, roll your orderly pile together lengthwise into a bundle (like a cigar). Slice across the bundle, creating thin sage ribbons as you go.
Using Dry Sage
When buying dry sage, always opt for rubbed sage over ground sage. Rubbed sage is pillowy in appearance and has a much better flavor when used for cooking due to its higher concentration of essential oils. Ground sage looks more like dust in the container and has a more muted flavor.
While a nice store-bought sage works well in many recipes, drying your own herbs is pretty easy. Make sure to start with clean, dry leaves. (Discard any that look like they have possible insect remnants such as webbing or eggs.) Line a cookie sheet with parchment paper and arrange the leaves in a single layer. Bake on the lowest temperature (no higher than 180 degrees Fahrenheit) for about 30 minutes. Flip the leaves and return them to the oven and continue to flip them every 15 minutes until they are fully dried. When done, the edges will look crisp and will crumble easily when rubbed between two fingers. Once dry and cooled, store the whole or crumbled (aka "rubbed") leaves in an airtight container and use within one year.
Cooking with Sage
Sage pairs particularly well with fatty meats, dairy, hearty vegetables, and beans. It also complements common flavor staples such as onion, garlic, thyme, oregano, parsley, bay leaf, and rosemary. One word of caution: Sage has a somewhat cottony texture which can be unpleasant on the palette, so for best results, opt for cooked sage versus raw.
When a recipe calls for sage, you can use either fresh or dried but the amounts needed will vary. Here are some easy guidelines to follow.
1 tablespoon minced fresh sage = 1 teaspoon dried sage
1 tablespoon dried ground sage = 2 tablespoon dried rubbed sage
2 tablespoon rubbed sage = 1 cup whole fresh sage leaves
Because fresh sage has a milder flavor than dried, it's best to add fresh sage near the end of the cooking process so as not to overpower the rest of the dish. Because dried sage has a stronger flavor, it's best to use it at the beginning of cooking so it has the chance to mellow out over time.
Pairings
The piney, citrusy notes of sage make it a perfect pairing for fatty meats. A great classic example of this combination is saltimbocca, an Italian dish made with a fillet of veal or chicken wrapped in prosciutto and sage leaves. Sage can also be worked into a gravy to top beef or pork.
The earthiness of sage makes it a good accompaniment to the mild flavor and creamy texture of dairy. Classic uses of this pairing include brown butter and sage ravioli and the timeless English cheese, sage derby. An easy way to try this pairing at home? Chiffonade some sage and add to your next grilled cheese sandwich made with a nice sharp cheddar cheese.
The rosemary-like flavor of sage is perfect paired with hearty, slightly sweet vegetables including sweet potato, carrot, and butternut squash. Make a meatless Monday meal of butternut squash steaks with brown butter sage sauce, or try a twist on the classic sweet potato casserole with this savory sweet potato casserole featuring sage, front and center.
Because of their natural earthiness and how well they absorb flavor, beans are also a great pairing for sage. Include some of sage's best compliments—onion, garlic, thyme, and bay leaf—and you will have a winning dish. Try this hearty sausage and white bean cassoulet for starters. You can also add sage to cooking liquid when cooking dried beans or grains. It'll add extra flavor and carry into whatever is next on the menu, such as a soup or salad.
And of course, the dish perhaps most known for its sage-centric flavor: Thanksgiving stuffing. Sage works wonderfully in classic bread stuffing because of all the complementary ingredients involved: turkey, hearty vegetables, onion, and parsley.
Whether fresh or dried, sage is an easy way to add warmth and great depth of flavor—not to mention health benefits—to a wide variety of dishes. Tap into that creativity and create your very own outstanding sage-scented meal tonight!