Simple tips to nail the look every time
Wearing red lipstick was great when you and your girlfriends were heading out for brunch but now that you're older, not so much—right? Wrong. According to a UK survey on beauty trends, 38% of over 2,000 women admit red lipstick is "an ageless classic." Not to mention research published in the journal Perception finds men are more attracted to women in red.
That's not to say we don't understand why someone would be hesitant to wear it. It is a bright statement that doesn't always seem worth it between the fading, smudging and total lack of moisture. (We are looking at you, matte formulas.)
But it's also a staple, as well as the easiest way to make your everyday look festive, says makeup artist Bobbi Brown. Just look to Hollywood, where stars like Gwen Stefani and Dita Von Teese have shamelessly sported the shade.
If you think you can't achieve a similar look without a team of professionals, think again. With a little know-how, you can rock red lipstick—and make it so it lasts longer, too—at any age. Here's what to do –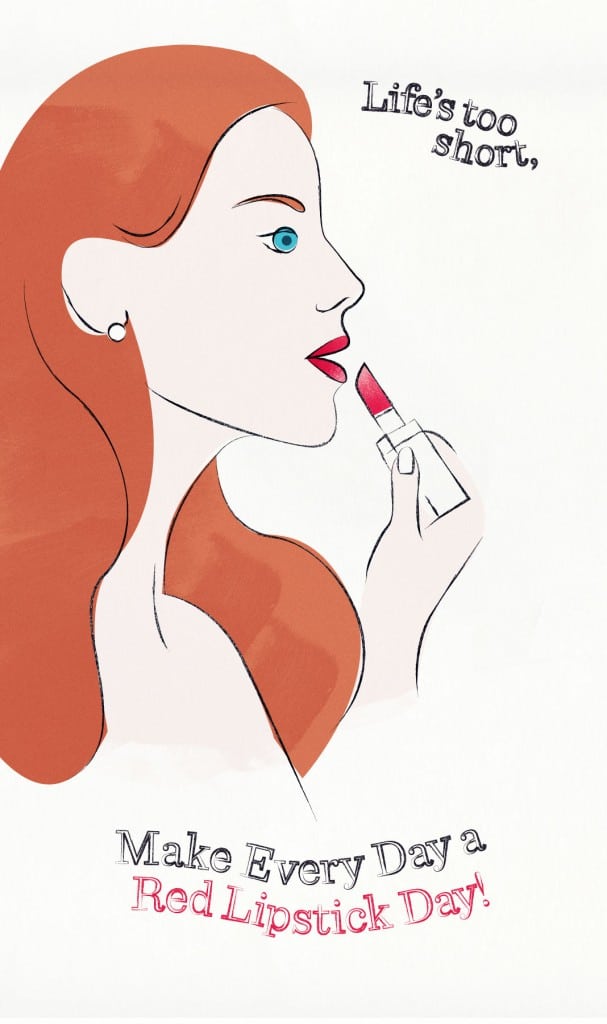 Exfoliate
A lip scrub—though the kind you use on your body works, too—helps clear away dry, flaky skin, leaving behind a smooth surface. Don't have a scrub on hand? DIY! Squeeze a dollop of honey into your hand and sprinkle a packet of large grain sugar. Then, combine and coat your lips.
Prime
To keep your lipstick from setting into those fine lines that have developed over time, apply a lightweight primer as a sort-of base coat. It's going to fill those lines and keep lipstick from fading or bleeding.
Line
Yes, lip liners are still relevant. Unfortunately, there's seldom a shade that matches the one of your lipstick. So something skin-toned is the best for avoiding that two-toned effect. Feathering the line also lessens the chance of harsh lines being leftover from a glass or two of wine. Bonus: liner makes thin lips look fuller—assuming, of course, you stick to your lip line. Simply put, don't draw where you don't have lips.
Apply
First, what's the look you're going for? If it's more va va voom, reach for a fire- or orange-red. If it's more subtle, try mixing a red lip pencil with a neutral lipstick. It may be worth looking into a lip brush for a more accurate application.
Also, consider your complexion. "True reds work best on a pale face, while olive skin calls for brown-reds or mahogany shades. If your teeth are yellow, a red lipstick with blue undertones will make them look whiter," makeup artist Troy Surratt tells Ladies Home Journal.
Blot
It seems like one, thick layer would do the trick—but two thinner layers are what you need for all-day wear. Apply a single coat first before using a tissue paper to blot. After, apply a second coat and bloat again.
Powder
For ultimate-staying power, lightly dust face powder to set the lipstick. And voila!
A couple of things to consider: Some formulas will be more moisturizing than others, while lipsticks without natural oils tend to last longer. Otherwise your lipstick will last you up to two years. After that, the oils break down and the product won't apply as smooth.
Second: keep additional makeup to a minimum. "When your lip color is strong, it's best to keep the color on your eyes subtle, so those features don't compete with each other for attention," says Brown. Think fresh, clean skin and neutral shades for your eyes.