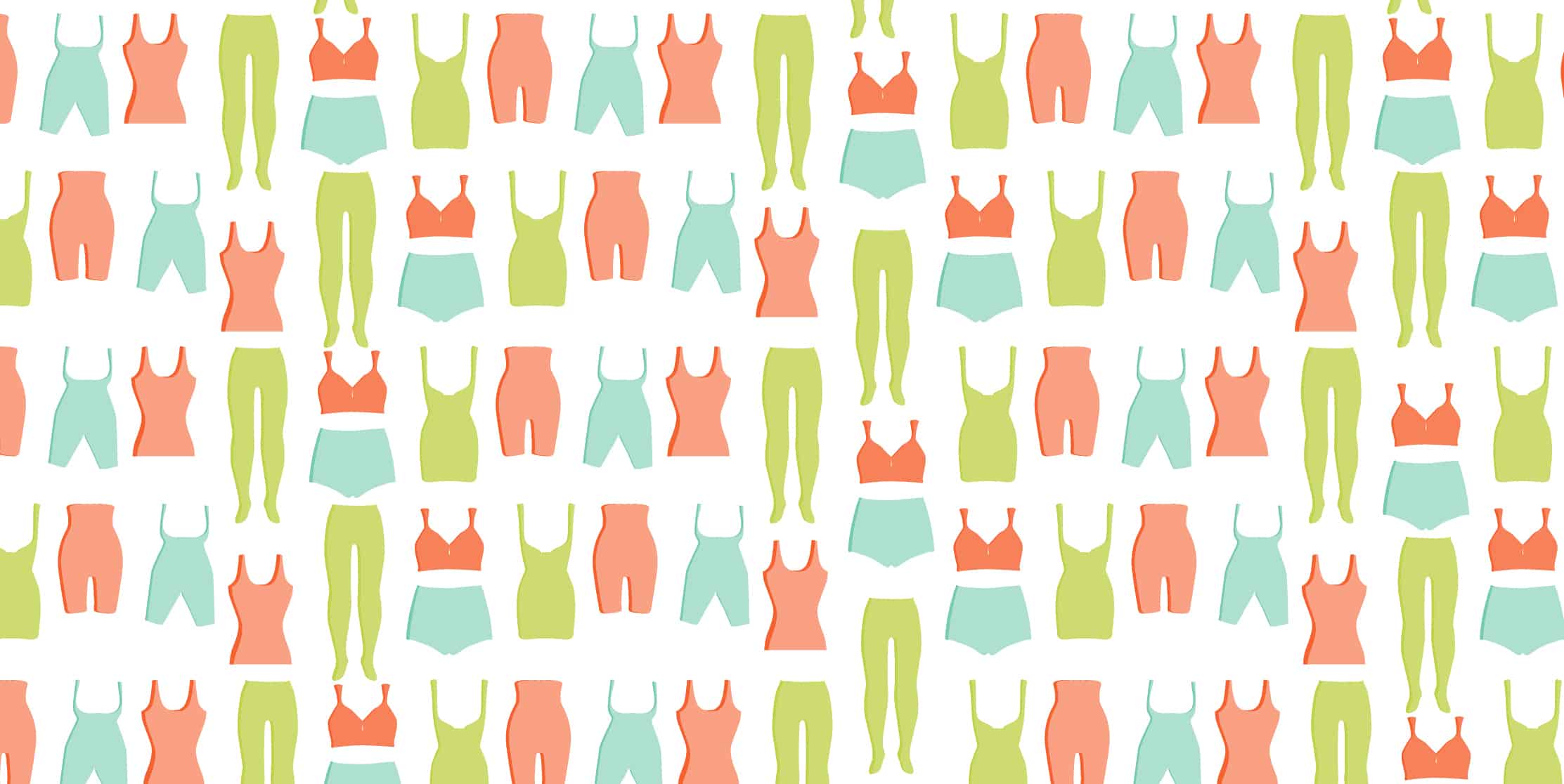 Shapewear has come a long way in the last few decades. The newer variations— comfortable, natural looking, with a smooth shape—no longer include stiff boning that threatens to crush organs. The trick is to find the right one that targets both the areas you want to smooth over and the occasion when you want to wear it.
Choose Your Performance Level
One style does not fit all. Look for garments that serve specific functions in the right elasticity. Each piece comes in different levels of elasticity, depending on how much control you want. If you only plan to wear it to a special event for a couple of hours, you may be able to handle more pressure. But if you're looking for a workday piece, a lighter level of elasticity will be more comfortable.
If the garment doesn't list a performance level on the tag, look at the label for material content. The higher the percentage of nylon, the more it constricts shape. If it's lightweight, it's more likely to smooth out targeted areas, but if it's heavier it can tuck your entire body into shape.
Wear the Correct Size
Don't be tempted to buy a smaller size for more control. If it's too tight, it can cut off circulation, be uncomfortable, and cause bulging. In fact a garment that's too small can actually make you look bigger. Instead, look for shapewear with more control in the correct size. It's too big if it moves around easily, gaps, or wrinkles when worn. When trying on pieces, make sure the band doesn't roll down and that shorts have enough grip on your thighs but not too much to create bulging.
How to Choose the Right Material and Color
The most comfortable material is nylon-Lycra. For clingy gowns, look for a lightweight, seamless one piece in your skin tone. It should be invisible under any dress. Don't layer tights over shapewear—both are made of nylon, which will cause the tights to shift and possibly allow seams to show through clothes. Look for tights with built-in shapewear to tone legs and shape the tummy area.
While nylon and spandex are great in colder climates, the synthetic fibers can make you more prone to sweat. For the summer months, select cotton options to absorb moisture and offer more breathability.
For most occasions, a skin tone garment is the best bet. But if you want something other than nude to peak out of a sheer top or dress, go with black or another color. If you're worried shapewear may flatten your behind, find a garment with padding or cutouts that lift.
How to Buy
While they're available online, it's important to try shapewear on at a department store before buying. Like bras, different brands can vary in size and comfort. If you're shopping for a specific event, bring your outfit with you to try on over the piece to make sure you can't see it through the garment. Walk around and sit in the piece to check for comfort and invisibility. For hygienic safety, make sure to wear underwear while testing out the shapewear.
How to Wash
Always check and follow the care instructions to maintain the quality of your shape piece. Treat these undergarments like bras—never wear them two days in a row to prevent the elasticity from breaking down, and buy several sets if you plan to wear them often.
Since heat causes spandex to break down, it's best to hand wash and lay out to dry. Wash the piece before the very first wear and after every two wears. If you're prone to sweat, wash after each use since the material can trap in moisture, leading to yeast and bacterial infections. You can also clean shapewear in the washing machine, in a mesh garment bag with warm or cold water.